Back to top
A Hoppy Sustainable Partnership: Wicklow Wolf & Ecotrail Wicklow.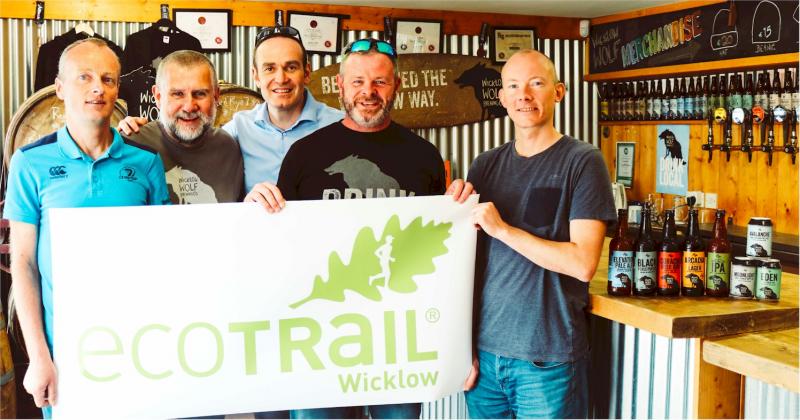 A natural fit, Wicklow Wolf have teamed up with Ecotrail Wicklow for this year's Trail running event. On Saturday September the 28th 2019, County Wicklow will become the 10th European destination to organise the epic Ecotrail©Trail Running Event.  Starting and finishing at Bray seafront, participants will have the choice of four different trail distances that will take them from the shore of the Irish Sea to the top of the Wicklow Mountains.  Choose your distance from either 18km, 28km, 45km or 80km to suit from novices to ultra-trail runners.
Wicklow Wolf was established by two friends, Quincey and Simon in 2014. Quincey and Simon had a common passion for Wicklow and for craft beer. They looked to the provenance and pride they had in their home, County Wicklow and Wicklow fast became the centre behind the brand's values and ethos. Wicklow is a wild landscape and known as the Garden county – full of vast forestry, meandering rivers, rugged mountains, bountiful lakes, a diversity of wildlife and of course lots of epic trails. They decided to plant the businesses roots deep and build a brand that is proud of everything they do.
Sustainability and having as little an impact on the environment was important in establishing the brand. The business was established, and one of its first acts was to develop its very own hop farm in the Wicklow mountains. The Wicklow Wolf Hop Farm is 100% chemical free, home to over 1,000 indigenous Irish trees planted by Wicklow Wolf to help offset our carbon footprint, home to a wide variety of wildlife and the centre of everything we do at Wicklow Wolf. Simon and Quincey both have an unwavering hunger and thirst  for excellence and this can be seen in their rejection of the status quo that has led them to do things their way, the Wicklow Wolf way, to produce and control the production of beer from grass to glass.
Making exceptional beer in a sustainable way is very important to Wicklow Wolf and their brand ethos. Running a sustainable brewery and business is a foundation stone to ensure that they achieve this goal and allows them to have control from grass to glass, ensuring locally sourced and the best raw materials are used. It forces them to think outside the box to find ways to make beer in better way. It makes them stand up and be responsible for what waste they are producing and the environmental impacts. It helps them foster better relationships not only with their suppliers with also with their consumers.
Wicklow Wolf variety of beers are widely available in Wicklow.  More info at https://wicklowwolf.com/