Back to top
FAQ
I didn't pick up my t-shirt, can you ship it to me?
We are not in a position to ship any tshirts in any circumstances. If you want your tshirt your only option is to show up at registration before the race.
Can my supporters track my position at all times?
No. Currently, we do not provide live tracking services.
Our timing team can see which runners pass which checkpoints although there can be a delay from the time a runner registers at a mat until the Race HQ can see their split time. If a runner does not show up in our system at a certain time it does not mean the runner is not there as timing chips may not register for several reasons the most common of which is a timing chip covered by clothing or a bag..
If during the race you need to provide priority updates to your supporters or emergency contact, your primary means of communication should be your mobile phone which needs to be carried at all times by all participants.
Are running poles allowed in the races?
Yes, poles are allowed but may not be used in the start and finish area or on the first 2km  including the climb up Bray Head.
Poles should also not be used while overtaking or while being overtaken.
When using the poles remember it is your responsibility to avoid hitting or tripping up other runners etc.
Please only use poles if you are experienced and well practiced in using them whilst running and walking
Where can I find previous event results
results from previous years

80 KM
45 km/46 km
28 KM/29 KM
18 KM/19 KM
Are there any travel / accommodation packages available?
My ITRA result details need to be amended - can you help?
Once results are sent to ITRA they take ownership of all amendments. Please email them directly on contact@itra.run for changes to your ITRA results.
Note from 2022 onwards, we will only be affiliated as a UTMB qualifier and the race may not show up on the ITRA.RUN website.
What are the prizes / what time is the prize-giving?
The top-3 men and women in each race and the 1st placed category* finishers from outside of the top-3 (men and women) will receive a trophy crafted from Wicklow Granite by local mountain runner Richard Healy of Richard Healy Sculptures. 
Prizes are given on the 'one person, one prize' principle so should an age category winner finish in the top-3, the second placed person in the category will receive the category winners prize.
Please note runners who change to shorter events during the event are not eligible for prizes.
*What are the categories?
Age categories are O40, O50, O60, and O70 for men and women. In order to qualify for a prize, a category must have at least two finishers. Should there be less than two finishers in a category, the lone person in that category competes instead in the lower category (i.e. if there is only one person over-70 in a race, they compete in the over-60 category). The male and female winner of each category receives the prize.
Note there are no separate Senior (under-35), O35 or junior categories. Any juniors in the race compete in the overall (under-40s) category.
 Previous Event Results Are Available HERE
What time are the prize-givings?
For 2023 event our Prize Presentation Schedule will be:
14:00 for 19k, 30k and 46k events
16:00 for 80k event
There are no cash prize in common with other Eco Trail International events
Please send email to info@ecotrailwicklow.com with any prize queries post event
How can I use public transport to get to the start line?
Will there be drop-bags allowed on the course?
No
You are expected to carry everything you require for the duration of the race including food.
Water is available at the advised location for refil of your container only.
Please do not leave bags on the route as this is against race rules and will result in disqualification.
Personal/external support with provision of drinks, food, clothing, etc on the route is strictly forbidden.
Use of shops/cafes along the course is permitted.
We need to ensure the event is fair for all participating and external support is not "fair play".
Is there Hi-res maps of the route available for download so I can recce the route in advance?
East West Mapping have provided official maps for our four races:
MAPS ARE BEING UPDATED FOR 2023 AND WILL BE AVAILABLE SOON
The best printed map that may be used for reference is that for "Wicklow East" as supplied by East West Mapping
Please do not attempt to run the sections passing through private lands at any time unless they are on agreed public access routes  as this could lead to our race losing access to these sections.
Specifically, you must follow only the waymarked path through Belmont outside of race day and you must enter the Powerscourt Waterfall park only through the gate lodge (where you must pay admission fee). 
When in doubt, please stay out thanks!
What type of running shoes are recommended for the EcoTrail Wicklow event?
Trail shoes are strongly recommended for all distances in the EcoTrail Wicklow event
Regular road running shoes are not suitable for the mix of trail surfaces that are included in all distances.
These trails include significant sections of gravel, rocks, roots, grass and most likely mud particularly in case of recent wet weather.
There are some short sections of tarmac but these are relatively insignificant apart from in the 80km event
Do I need to have completed a qualifying event to participate in the 80 km Eco Trail Wicklow event?
We do not have any mandatory qualifying event for the 80km course.
However, we strongly recommend that you should have successfully completed at least one 50+km off road running event in preparation for this significantly challenging event.
Please Do Not Enter This 80km Event unless you are adequately trained and experienced to safely complete the full course comfortably within the allowed time limits
Do these races offer ITRA points / UTMB qualification to qualify for other major international events?
ITRA points no longer offer qualification for UTMB. Instead the EcoTrail Wicklow race series are on the UTMB Index list. This means you can use your races to attain the necessary UTMB Index to enter the lottery. However, please note this alone is NOT ENOUGH: you also have to collect at least one running stone by attending a UTMB World Qualifier or UTMB World Major race (our EcoTrail races do not hold this status).
Where and when is Race Sign On?
Our Race HQ is close to the Bandstand and in front of The Martello Hotel on Bray seafront.
This is 5 mins walk from the DART / Train Station
All participants must have registered online prior to entry closing - No On Day / Late Entry will be possible
All participants must sign on in order to collect their race bibs and timing chips on Friday evening or Saturday morning.

Participant Sign-on and collection of Race Bibs & Timing chips will be at the following times:
Friday (pre-race day) - From 16:00 -> 21:00
Saturday (race day) - From 06:30 -> 10:40
Race sign on for each event will close 20 mins before race start time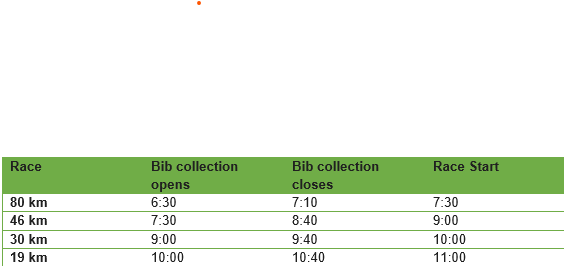 What will be supplied at aid stations and where will they be located?
We will have
At Aid Stations (AS) there will be water refill as well fruit cake, bananas, apples, biscuits and flapjacks.
At Water Stations (WS) there will be water refill points only.
| | | | | |
| --- | --- | --- | --- | --- |
| Station | 19 km | 30 km | 46 km | 80 km |
| Great Sugarloaf (AS) | - | 14.6 km | 14.6 km / 30.5 km | 14.6 km / 64.0 km |
| Lough Tay (WS) | - | - | - | 29.0 km / 51.8 km |
| Vartry Trails Car Park (AS) | - | - | - | 34.5 km / 46.4 km |
| Belmont - Store & Yard Cafe (WS) | 12.0 km | 22.8 km | 39.0 km | 72.2 km |
This means for each event you have access to:
19 km Event: WS at 12 km
30 km Event:  AS at 14.6km, WS at 22.8 km
46 km Event:  AS at 14.6 km, AS at 30.5 km, WS at 39 km
80 km Event: AS at 14.6km, WS at 29 km, AS at 34.5 km, AS at 46.4 km, WS at 51.8 km, WS at 64 km, WS at 72.2 km
Note: Between AS at 14 km and 30.5 km on 46 km and 80 km routes there are some naturally occuring water sources which participants may choose to use at their own risk. You pass shops/cafes at 10 km (30k-80k) and 19.6 km (46-80k) where you could purchase emergency provision if carrying money/payment card.
There will be No Drop Bag Facility for any of the events. You should carry all food you require,
Participants are reminded of the need to carry liquid with them through the race and to have a water container for refill at our aid and water stations as no containers will be provided.
Please ensure any rubbish you wish to dispose of is disposed in an appropriate place at one of the Aid Stations or the finish,
Can I run part / the entire route in advance of the race?
Most of the route is on national waymarked trails and can be run by the public any time you should wish to do so.
A few sections cross private land only opened specifically for EcoTrail Wicklow.
Please do not attempt to run these sections at any time as this could lead to our race losing access to these sections.
Specifically, you must follow only the waymarked path through Kilruddery Estate / Belmont outside of race day and you must enter the Powerscourt Waterfall park only through the gate lodge (where you must pay admission fee). 
When in doubt, please stay out thanks!
What's the start and finish line like?
The  start and finish line is at the Victorian band-stand on the sea promenade in Bray across from the Martello Hotel.
You will run along the promenade for 800m as you begin and end your journey to Bray Head and beyond.
I want to book in a large group? How can I do this?
Please contact us directly if you wish to make a large group booking - Email Us
Groups can of course register individually at our registration link currently
Please email us if you need further asistance.
Will the routes be closed to the public?
No.
You can expect to encounter other trail and road users along your journey and show them the same courtesy you would like to receive under similar circumstances.
On all road sections stay aware of traffic and follow marshals instructions at all times particularly at road crossing points.
You may even be so lucky to encounter some of the Irish wildlife and livestock: fox, hare, rabbits, deer, badgers, squirrels, sheep, and wild goats all make their home in the National Park so share your journey and enjoy the experience. 
Who gives way on sections where the out and back route is the same?
The general rule in Irish trail and mountain races is that descending runners always have right of way as they are more at risk when changing direction or braking whilst descending. 
If you encounter runners ahead of you on a single-track section, it is considered courteous to make way. 
In practice there will be very little overlap of runners meeting on narrow trails but giving way is advised .
If faster runners from a longer event approach you from behind please also move to one side where possible and allow them to overtake safely.
Please do not attempt to overtake anyone on a narrow section of trail unless there is space to do so and / or the slower runner has indicated that you should pass.
Walkers can take part in the 19 km, 30km route if they are confident of completing the route before 17:00.
Are the time limits / cut-offs strict? Can I continue after the race has officially ended?
How much of the routes move through urban areas?
The routes start in the town of Bray and passes briefly through two other villages: Kilmacanogue (30, 46 and 80 km only) and Roundwood (80 km only). The rough proportion of the route that takes place running in urban areas are:
19 km: 11%
30 km: 17%
46 km: 11%
80 km: 7%
The urban sections are very scenic such as the Bray seafront promenade encapsulating the start and finishing stretch of each race.
What part of the route is on tarred roads?
The current estimated percentage of the routes on tarred roads. With course improvements we have reduced the amount of tarred road in the race every year.
19 km: 13.6% (2.7 km - longest stretch 900m)
30 km: 19.9% (6.2 km - longest stretch 1.5 km)
46 km: 20.2% (9.7 km - longest stretch 1.5 km)
80 km: 18.6% (14.7 km - longest stretch 2.2 km)
Much of these sections are parkland paths rather than actual roads and road sections are generally scenic country roads.
The following sections of our course are tarred:
ALL RACES
Bray seafront promenade: 900m (out and back - 1.8 km total)
Windgates estate: 300m (out and back - 600m total)
Kilfenora Lane to Belmont Way: 300m
30 KM TO 80 KM
Kilfenora Lane into Kilmac to Sugarloaf Way start: 1.5 km (out and back - 3 km total)
Glencap Road: 500m
47 km and 80 km
Red Lane (Great Sugarloaf): 700m (out and back - 1.4 km total)
Ballyremon Commons: 700m (out and back - 1.4 km total)
Powerscourt Laneway: 1 km
80 km only
L1036 (Wicklow Wolf Brewery to Vartry Trails): 2.2 km (out and back 4.4 km total)
Ford Bridge (Vartry): 400m
Water's Bridge (Vartry): 200m
The longest single stretch of road is the 2.2 km leading from Wicklow Wolf Brewery to Vartry Trails Aid station.
For the shorter distances tarred sections are only 400m to 1 km in length.
Is there a finishers medal or tshirt for the event?
Event entrants in all four race distances will receive a quality technical tshirt as part of their entry fee unless they have opted to have a tree planted instead - Details of the "Tree instead of a Tee" option HERE.
All finishers will receive a finishers tankard which you will hopefully find useful and enjoy using both at the finish line and afterwards
How accurate are the distances/how are they measured?
We aim to provide accurate distances for all event but being a trail event with significant off road and elevation gain and loss means that these distances cannot be guaranteed accurate to the nearest few meters.
Distance and elevation is first measured in a mapping software and then confirmed on the ground by a Stryd foot-pod - currently the gold standard in measuring trail races and significantly more accurate than GPS. 
In general most GPS watches will come close to the official measurements but it depends on your GPS software, the satelitte coverage in your area, the recording mode you have selected on your watch or phone, and how well you run the 'optimal line' on the trail. Our official course measurers put great care to run the optimal lines while measuring the routes with the foot-pod. 
The foot-pod contains an accelerometer which measures exactly how far the pod moves across space in three dimensions (forwards/backwards, side to side, and up and down) providing nearly 100% accurate readings even where there is poor satellite coverage. So should you find that your GPS recording is slightly different than official course distance and elevation it is likely a combination of GPS inaccuracy and not having run the optimal line on the trails (such as when you run the outside of bends instead of taking the straight line from the middle of each curve in the bend - not always an option when you are racing or tired).
Can I change my race distance after entering event?
It is possible to change to a shorter race distance up until 15th September  as long as the shorter race you wish to join is not sold out.
Please note you will not be refunded the difference in price if you avail of this option. 
To change to a longer race, you must pay the difference.
In both cases Distance Change Requests should be sent by email to info@ecotrailwicklow.com no later than 15th September
Are the courses marked/how are the courses marked?
The courses are marked with a mixture a flags, tape, and biodegradable spray paint.
As a general rule the course will be marked at every junction or other area where you could be in doubt where to go.
Navigational skills are not necessary but it is vital that you remain aware of the need to follow the route marking and not assume that everyone that is ahead of you has done so.
If you reach a junction that has no race marking then you should retrace your steps until you find a junction with route marking and follow route from there 
Whilst we will have some marshals out on the course at critical points like road crossings points, most trail junction will not be marshaled so you are responsible for following  the marked route.