Back to top
Where to park on race day?
Although we strongly recommend the use of public transport to reach the starting line, official race parking will be available at Presentation College Bray, Putland Road, for 18 km, 28 km and 45 km runners. The car park will be open from 9:00 to 20:00. Please ensure you retrieve your car before closing time. Entry fee is €5 all of which goes to Presentation College.
Note it is a 1200m / 14 min walk to the start line / collection from Presentation College.
Search for 'Presentation College Bray' in Google Directions or similar or use this link for location. You should take the Bray/Greystones/Kilcroney exit off the N11 from the South. Take Exit 5 off the N11 from the North / Dublin.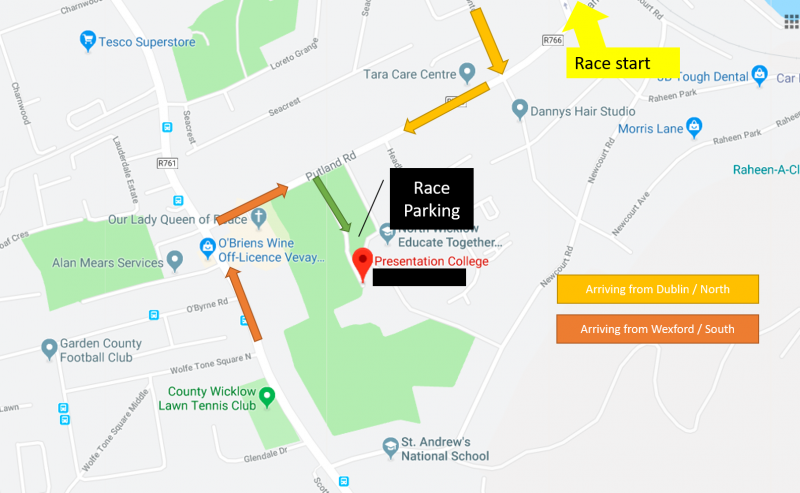 FREE parking option 
A free parking option is available at Greystones Park and Ride. From here you must walk 650 m (8 min) to Greystones Railway station and take the DART (a 9 minute train drive) to Bray (Daly) and then walk the final 600m (8 min) from Bray railway station to the Martello Hotel.
Leave 30 minutes from time you park to closure of your race's collection as a minimum to be on the safe side if you avail of this option. Greystones DART runs from 6:30 in the morning. Check the time table for best connection for you and book tickets online for fastest trip.
This option is recommended for participants travelling from the South.
Important note for 80 km runners
80 km runners should avail of the many public parking spots available along the seafront promenade including three designated car parks as the Presentation College car park will not be open ahead of race start. 
Bray Town Council Car Park (North part of promenade): 9 minute walk to collection / start
Clif Walk Car Park (south part of promenade): 13 min walk to collection / start
Bray (Daly) DART station (car park 1): 7 minute walk to collection / start
There's no available parking in front of the Martello.
Rates are generally 30 cent per hour or 3 euro for all day parking and we recommend using the ParkingTag option for quick cashless parking.